You knew this discussionb was coming, Is Michael Phelps the Greatest Olypian ever, I would say yes.  The 19 Golds and 22 medls overall are unequaled.  As you will see below ESPN's Michael Wilbon makes a case for Carl Lewis, Jesse Owens and Russian wrestler Alexander Karelin.
That the sport of swimming uniquely offers many  medal possibilities found nowhere else in the Olympics ought to make us look a little deeper to compare excellence in swimming to, say, track and field, where it's literally not possible, considering the varied skill sets required, to compete in seven or eight events. Whether we want to declare Phelps a greater Olympian than, say, Jesse Owens is something that ought to be done after a lot of consideration, if at all. And we'll get back to that later in this space.
[+] Enlarge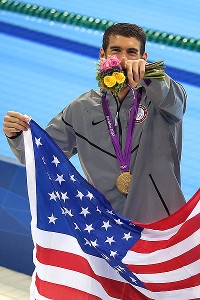 Ezra Shaw/Getty ImagesMichael Phelps has the most medals ever. But is he the greatest of all time?
But it seems that Phelps' greatest accomplishment, and what sets him apart and perhaps at the top of the Olympic heap, was the way he dominated the 2008 competition in Beijing. For me there are three components to assessing greatness in Olympic competition, starting with dominance and longevity. A tiebreaker of sorts is how much of the world participates in a certain sport, which in my book would elevate a sprinter ahead of a fencer or equestrian.
Phelps didn't merely dominate swimming in 2008; he'll finish his career as the most dominant competitor his sport has ever seen in the Olympics, which is staggering to even consider. Yes, Mark Spitz won seven gold medals in Munich, but Spitz excelled in only two of swimming's four disciplines — freestyle and butterfly. John Feinstein, in addition to being a sports writer and award-winning author, was a pretty fair competitive swimmer in his day and reminded me Tuesday that Spitz never swam the IM and that Phelps' versatility made him superior. Think about that; Phelps is superior to a man whose seven golds in one Olympics put him on the list of all-time Olympic greats.
Feinstein believes that if the schedule in Beijing had allowed for Phelps to compete in the 100 freestyle and the backstroke events, all that could have added up to 12 gold medals in Beijing instead of eight. Phelps — and there's no real debate for this — is the most dominant athlete in the history of his sport and was at his very best in Olympic competition. In every other sport there's a debate, even in basketball, where a great many of us would start a team with Michael Jordan but some would start with Magic Johnson or Bill Russell. In soccer it's debatable, right? I say Pelé, but people would come right back at me with Diego Maradona … or Johan Cruyff or Franz Beckenbauer, even Lionel Messi. You want an individual sport? OK, let's take golf. You say Jack Nicklaus, I'll argue Tiger Woods … or flip the discussion and take the other side. There's no such debate in swimming. It's Phelps. Swimming isn't some boutique or niche sport; it's of fundamental importance to Olympic competition. And in a sport where it's really difficult to have longevity — Spitz swam in two Olympics — Phelps has won medals in three.
There's another unofficial category in which Phelps gets a huge boost in the greatest-of-all-time argument: admiration from his peers. Chad le Clos, who stole gold from Phelps in the 200 butterfly, said afterward, "He has always been an inspiration to me and a role model. I've watched all his races, and I've run the commentary over and over. … He's everything to swimming."
So, while Phelps is the greatest swimmer ever and there's no real argument against him in the greatest Olympian of all time conversation, there are indeed arguments for a handful of other Olympians.
My choice is Carl Lewis, who still is the only man to successfully defend the 100-meter or the long jump title — and he did both. Nine gold medals and one silver in four Summer Games. And remember, when Lewis was 19 and on the team in the long jump, the U.S. boycotted the 1980 Moscow Olympics. Lewis is essentially a five-time Olympian. In 1999, he was voted Sportsman of the Century by the IOC. He was also voted the World Athlete of the Century by the IAAF. You want dominance? Lewis owned 1984 the way Phelps owned 2008. It had been 48 years since a man had won four gold medals in track and field, since Owens did it in Berlin. Lewis said he wanted to tie the mark (100, 200, long jump and 4×100 relay) and did it in Los Angeles.
The freestyle and butterfly require different strokes, sure. But running the 100 and performing the long jump require entirely different skill sets, which is what to me sets Lewis apart. Not only that, but more people across the world run than swim. The pool of talent was much greater for people who could challenge Lewis than Phelps. And the fact that Lewis, even though he couldn't challenge the fastest sprinters in the world in Atlanta when he was 35, could still win the long jump is a testament to an otherworldly greatness. No swimmer at 36 is going to win gold. You know who's going to do what Lewis did in '84? Nobody. Not a soul.
[+] Enlarge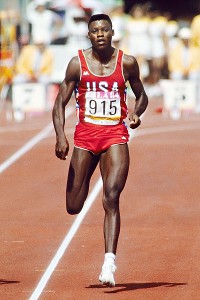 Leo Mason/US PresswireDoes what Carl Lewis did on the track carry more weight than what Michael Phelps did in the pool?
Probably next on my list after Lewis, for many of the same reasons, would be Owens, who in addition to still being tied 76 years later for the greatest performance ever in track and field, authored the most dramatic and culturally important moment in the history of the Olympics when he defiantly interrupted Hitler's Aryan superiority campaign in Berlin. The best thing about Phelps breaking the record for medals won is it forces several generations of people with an inadequate sense of sports history to see clips of Owens and at least be exposed to perhaps the most important American Olympian. Owens didn't have the luxury of longevity; after Ohio State and the Olympics, both of which he slayed, he had to get a job.
And if we're talking dominance, with a hint of a different kind of drama, then very high on anybody's list has to be Russian wrestler Alexander Karelin, who not only won gold in Seoul, Barcelona and Atlanta, but also went undefeated for 13 years … undefeated without allowing an opponent a single point for six of them. If I wanted to take exception to Feinstein's assertion that Phelps is the only undisputed greatest ever in a major Olympic sport, then Karelin would be that exception. In 1996, U.S. heavyweight Matt Ghaffari pushed Karelin to overtime before the Russian won, sending Ghaffari's career record against Karelin to 0-22. Four years earlier, in Barcelona, two opponents allowed themselves to be pinned rather than risking having Karelin break their necks with his reverse-body lift and slam.  Michael Phelps is one helluva swimmer, but I don't know that the guy in the next lane has ever been physically afraid to compete with him. How can anything in Olympic history be a greater example of dominance?
These are mine and Wilbon's choices, what are your top 3?
Did you enjoy this post? Why not leave a comment below and continue the conversation, or subscribe to my feed and get articles like this delivered automatically to your feed reader.